Roll over image to zoom in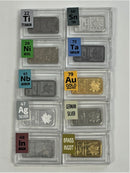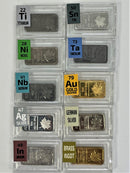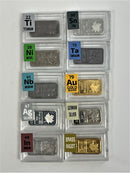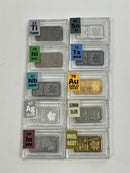 Description
PEGUYS is Proud to present 10 x 1 gram Maple Leaf element Bars from the Periodic Table. Each is in its own Airtight Acrylic Tile. Each Tile also has a Vinyl Label on the Front showing The Element, The Number in the periodic table and the symbol. 
 The Periodic Element Guy has produced a whole range of elements in different Mediums protected in airtight tiles.
In This Unique Maple 1 Gram Ingot Set we have, 
Silver dipped in 24k Gold This bar is still pure Silver, but dipped in pure 24k Gold.
Niobium
Indium
Tantalum
Brass Alloy
German Silver Alloy
Payment & Security
Your payment information is processed securely. We do not store credit card details nor have access to your credit card information.