Roll over image to zoom in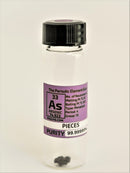 Description
PEGUYS Presents  0.1 Grams pure 99.999% Arsenic Metal Sample in our new "Stand Tall" Glass Vials. The Arsenic will be covered in hard resin unless you request otherwise. They come with our New Element Vinyl's, which has all the info, when you need it.
The Vials measure 70mm x 22mm
Payment & Security
Your payment information is processed securely. We do not store credit card details nor have access to your credit card information.