Roll over image to zoom in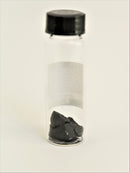 Description
Carbon is in a lot of things we use on a daily basis and has many uses. The charcoal you use to light your BBQ is made of pure carbon. The Diamond you may have on your finger is Carbon Crystal. And Graphite is also Carbon. Carbon can even be used to filter water.
Here you get a few grams of Graphite pieces in a Tall glass vial with our new Element Vinyl giving you all the info, when you need it.
Payment & Security
Your payment information is processed securely. We do not store credit card details nor have access to your credit card information.