Roll over image to zoom in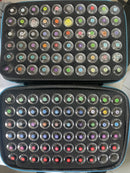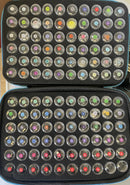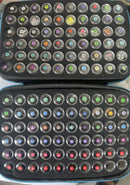 Description
It is tough times for people at the moment in what seems to be a Global recession. The high energy costs and higher interest rates are hurting a lot of people. So we came out with our " Portable Periodic Elements Briefcase" with either 70 or 82 Elements. Whichever set you decide you will still get 118 labeled Periodic Element jars. They are made of high quality Acrylic/Plastic. These sets are really nice, and other that the elements that come in an ampoule and the Precious Metals and a few others, you should receive a minimum of 1 Gram each. For the Rare Earth Metals you will receive at least 1.5 Grams each and for the reactive elements, you will receive a clean small piece in an ampoule with argon gas.
If you choose the 70 Element set you will not receive these elements( Only empty labeled Jars ) Cl, Ca, As, Br, Sr, Xe, Ba, Eu, Au and the Radioactive ones.
For the Precious Metals, you will receive
0.2 Grams Ruthenium Crystal
2x2mm Rhodium Foil
0.05 Grams Pd Foil
1 Gram Silver Crystal
0.2 Grams Osmium Crystal
2x2mm Iridium Foil
1/10th Gram Platinum Minted Ingot
1/10th Gram Gold Minted Ingot    (only 82 set)
And for Fluorine you will receive Fluorite (CaF2) 
This is really great value and for Schools who purchase a few sets, we have a very special price.
Also included in the Price is DHL Express Shipping which with this size is worth over $100. Just choose cheapest shipping at checkout.
\
Size of Case 32x22x7 CM   Jar Size 2.5x2.7 CM
Payment & Security
Your payment information is processed securely. We do not store credit card details nor have access to your credit card information.