Roll over image to zoom in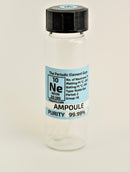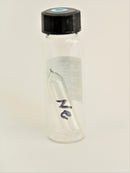 Description
The Periodic Element Guys are proud to present Neon Gas . Superb quality glass ampule filled under Vacuum in Low Pressure, in it's own glass Vial with a color coded label on the Front showing all the essential information of the particular element. 
Everyone remembers the Neon signs from the earlier part of the 20th century, when it seemed like half of the US was lit up in red. Neon is the second gas of the Noble Gases.
Please note the Second Picture shows a High Voltage Tester being placed next to the Ampule.
Payment & Security
Your payment information is processed securely. We do not store credit card details nor have access to your credit card information.