Roll over image to zoom in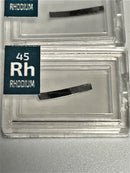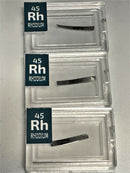 Description
PEGUYS are proud to present,

 

VERY RARE X-Ray Quality Rhodium foil 99.9% comes in its own periodic element tile.  You will receive a minimum 10mm x 1mm. The foil is 0.025 mm thick. 
I think this is the rarest item we've ever sold. The 10mm x 1mm Strip you will receive is cut from a pure Rhodium 
Filter from a 
x-ray
medical mammography Unit.
A once in a lifetime opportunity to buy a sample of Rhodium Foil!
We only have a very Limited amount. You will not get a another chance to buy pure Rhodium foil at this price!
Payment & Security
Your payment information is processed securely. We do not store credit card details nor have access to your credit card information.