Roll over image to zoom in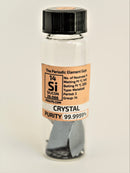 Description
Silicon is an amazing element. Starting off as silicon dioxide(beach sand) and being turned into beautiful single crystals. These crystals are in most electronic devices today in the form of computer chips. The shortage of Silicon metal at the moment has seen prices increase 300% in the last 2 months.
Here you get 4 Grams of single Crystal 99.9999% pure Silicon. in our new labeled glass vial.
Payment & Security
Your payment information is processed securely. We do not store credit card details nor have access to your credit card information.