Roll over image to zoom in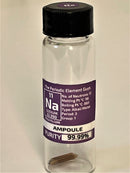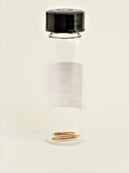 Description
Sodium is number 11 on the Periodic Table and is used as a reagent in the chemical industry as well as a Heat exchanger in nuclear reactors. But the most common compound of Sodium is Sodium Chloride or Table salt. Salt has been added to food for 100's of years. Sodium is reactive with air or water. 
Here we give you 2 x 15mg ampoule, One for experiments and one for collection :) in our new Tall Glass labeled Vial. 
Our new vinyl's have all the information when you need it.
Payment & Security
Your payment information is processed securely. We do not store credit card details nor have access to your credit card information.